was assigned to me by Maria of When in Rome for the alphabet game.

And so commences my 10 favorite things that start with S in no particular order.

1. Scholarship - I was lucky enough to have won a full academic scholarship. This has given me more opportunities than I ever could have imagined, far beyond graduating soon with almost no debt. I had the privilege of having breakfast last Friday with the extremely generous man who financed my scholarship and I could barely even begin to thank him enough. He is the man without a jacket on in this picture from the Post-Dispatch. He and his wife are truly great, caring individuals.

2. Sepia - This represents my love of photography. I could read photography blogs all day, that is, of course, when I am not behind the lens of my own camera or editing. As far as sepia itself goes, I particularly liked what Jessica did to one of her wedding pictures.
3. Stephanie and Stonewolf - I am also lucky enough to have found the man I want to spend the rest of my life with. These two S's represent the planning of my wedding to him. Stephanie keeps me sane while everything in our planning seems to be a battle and Stonewolf is where our reception will be in a little more than a year from now. I apologize to the owner of this photograph, as I can't remember where it came from.

4. Southwestern, IL - Yes, I grew up in a town with less than 10,000 people, but I know that I wouldn't be the same person if I hadn't. As many flaws as you might find in my hometown, I wouldn't have chosen any other place to grow up. I hope my kids are lucky enough to be raised in an equally great environment. Go Bulldogs!


5. Spaghetti - Whether its from Maggiano's or just some cooked for me by Doug, I heart spaghetti. Add some garlic or other bread and there is no better meal. My favorite sauce from a jar is Prego. I thought nothing about typing that into a google image search and laughed when only one result was sauce and not a picture of various women ready to give birth.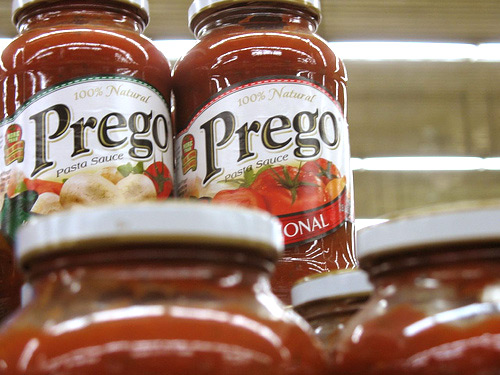 6. St Louis Cardinals - (and the Blues but it's not hockey season anymore) I already posted about this earlier in the week, but I am so excited that baseball is back!

7. Singing in the car - If I'm alone in my car and its a gorgeous day, you would definitely see me singing at the top of my lungs as I drove by (because let's face it, I will be passing you by in the fast lane). I love almost all music, but in the car I definitely lean toward something rocky (see #9) or something funky. My most frequently played is probably Edwin McCain. He has a funky sarcasm that I can relate to and killer vocals that speak to me.


8. Spring - I am tired of winter from about the first day after it begins. Spring is so exciting because it is the end of winter. I love blooming flowers and being able to wear a hoodie and be perfectly comfortable. Plus, it is a great time to work on "S" #2. This is one of my favorite taken-in-the-spring pictures. An assignment at the Missouri Botanical Gardens for my freshman honors seminar "Plants and Society."


9. Styx - You might ask, why does someone born in the mid-eighties love Styx? Well, the answer would be my father. Growing up, I listened to whatever my dad had on. But, my connection with Styx extends far beyond that of their music. My dad and I have seen them in concert every year since they started touring with REO Speedwagon (who my dad opened for when they were a $150/night band, btw) and the bonding time with my dad is more special than any band. And let me tell you, we have seen them all. I absolutely adore this picture of my family by the lovely Trisha of Seelen Photography because it captures perfectly my dad's personality.


10. Sarah and Sprague - My two best (non-Doug) friends first and last name start with "S," how convenient of them to be named as such! I have the pleasure of spending mucho amounts of time with Miss Sprague, as we have three classes together this semester. Unfortunately, do to my internship I do not spend nearly as much time with Sarah as I would like (we met and spent most of our time together at my other job.) Every little bit of time I have gotten to spend with her recently, however, has reminded me how much I miss her and what a great friend she is. I do not have pictures with either of these girls, mostly because of my refusal to be on the appropriate side of the camera for taking some, but thanks to my five-minute photoshop talent I can provide you with an idea of just how awesome we are. The picture on the left is what Miss Sprague and I would have looked like if we had ever been sailing together. The picture on the right shows you how Sarah and I would kick ass as penguins.















Wow, that was a bit exhausting, but fun. If anyone hasn't joined in on the game yet and wants to, let me know and I will think of a letter!